What did I do during the day (03/12/11)
22:29
Hi, it's still sari here ;;D *just in case you thought that I have ___
What have I done during the day were actually just going on a computer and doing some stuff.

1. Bangun jam 4.30
2. Tidur lagi jam 6 dan bangun lagi sekitar jam 10 *gue libur getoh ;p
3. Nyalain laptop
4. Periksa twitter, blog, facebook
5. Balesin chat yg di blog. Facebook ngebosenin, log out deh
6. TL juga sepi. Nggak ngetweet banyak.
7. Blogwalking
8. Benerin chatbox
9. Edit blog
10. Download Paint Tool SAI (?)
11. Otak atik
12. Berhasil buat satu figure. Lumayan lama ngebuatnya. Berjam jam loh. Ampe capek nih mata. Tapi hasilnya lumayan lah buat newbie kaya gue.


13. Edit backgroundnnya pake Photoshop dan hasilnya lumayan memuaskan. Backgroudnnya cuma gue bikin simple. Cuman asal taroh gambar yang gue dapet tari tumblr sampe bertumpuk tumpuk terus gue set layer stylenya jadi overlay semua kecualy layer dasar. *bingung ye? ;p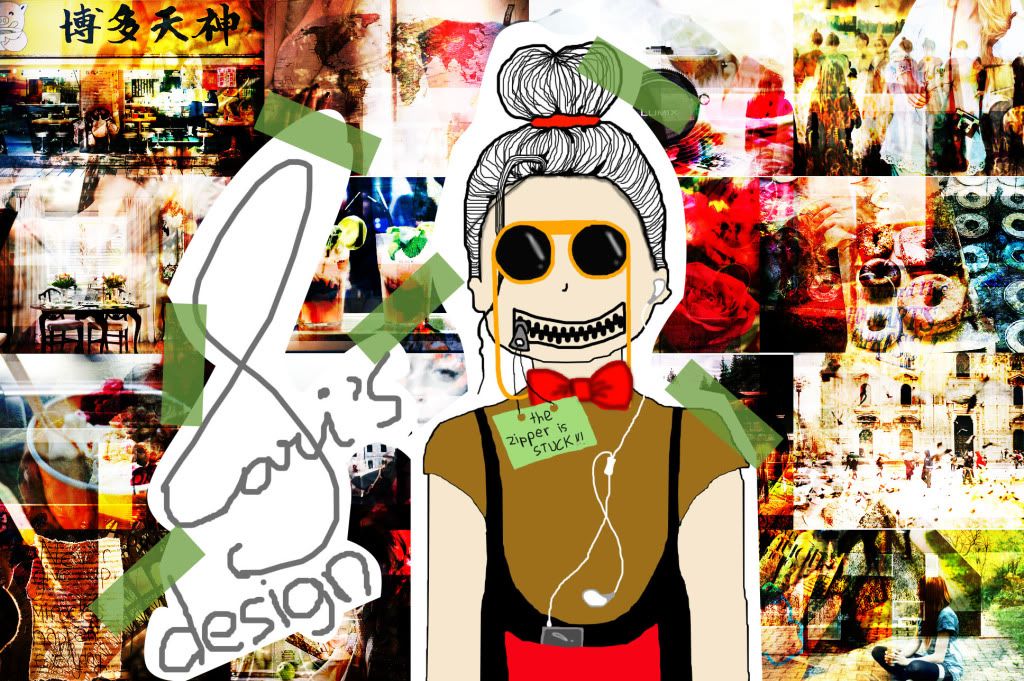 Gambar diatas adalah design pertama gue dan bukan yang terakhir karena yaaa gue addicted!!!
Gambarnya itu dia pake sunnies yang nggantung di leher terus mulutnya itu gue gambarin pake resleting.
Gue buat kayak gitu soalnya waktu bikin gue susah gitu bikn mulutnya wek ;p
Dia lagi dengerin semacam ipod gitu.
14. Ganti profile picture facebook pake gambar yang barusan.
15. Browsing ke diva accessories dan menemukan dua items yang gue pengen aaaahhhh *berdoa
16. Upload gambar ke photobucket
17. Ngepost deh ke blog.